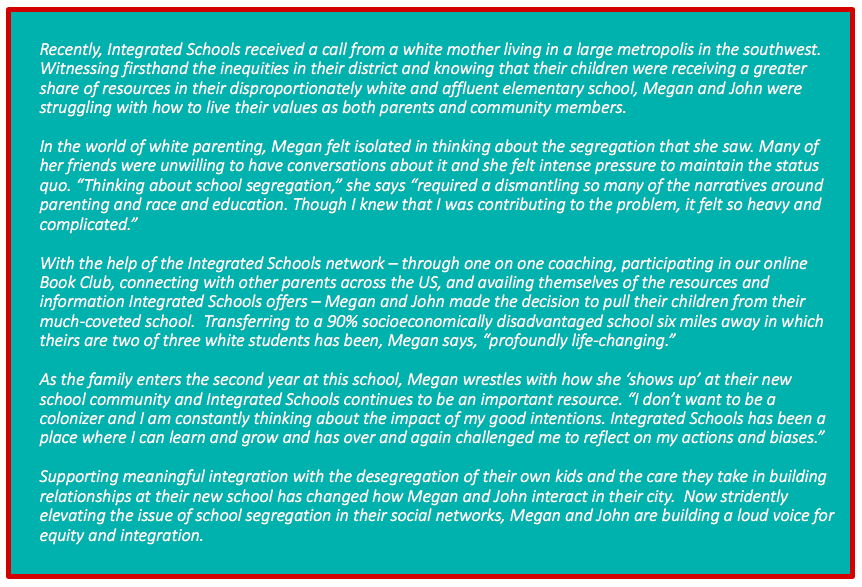 Our public schools are more segregated by race & class now than before the Civil Rights Movement -- and it is only getting worse. This caste system of public education harms all our children growing up in segregated spaces and presents grave threats to our democracy as a whole. As parents, we must take responsibility and we cannot simply wait for courageous policy; we must act.
Integrated Schools is growing a grassroots movement of, by and for parents who are intentionally, joyfully and with humility enrolling their children in integrating schools
AND WE NEED YOUR HELP!


To actually do something about school segregation - first things first - enroll your kid in an integrating school and learn how to 'step in' responsibly.

And secondly, as Integrated Schools is poised to grow (and grow big) in the coming year, we need your help! Your financial contribution will support the infrastructure to do this work on grander scale.

Our all-parent, all-volunteer grassroots movement needs you!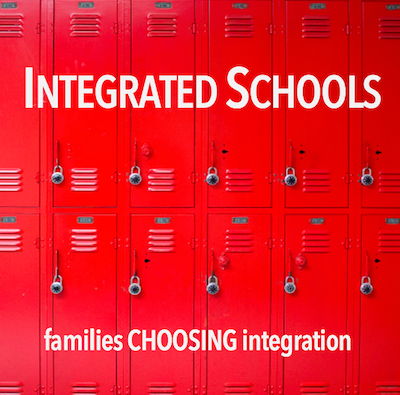 Donating $10, $100, $1000 here today would mean that we could expand our programs, reach more parents, and build a stronger constituency for change.
If you cannot give today, will you commit to asking five friends/colleagues/neighbors to consider donating? (Share our message on Facebook and Twitter)
With scrappy and passionate volunteers and extremely limited funds, Integrated Schools has over the past three years been actively strategizing and programming interventions and supports for parents choosing integrating schools. These include:
Donate via Credit Card or eCheck
Is my donation and credit card info secure?
Yes, the security and confidentiality of your information is our highest priority. We will not sell, trade or share your personal information with anyone else, nor send donor mailings on behalf of other organizations, and we will only share personal information if you have given us specific permission to do so.
Is my donation tax deductible?
Yes, we are a fiscally sponsored project of Social Good Fund, which is a public 501c3 organization recognized by the IRS. Your donation is tax-deductible to the fullest extent permissible by law.
How do I know that my donation was made successfully?
You will receive an emailed receipt immediately after your donation is submitted and your credit card is processed. Your donation will also show up on your bank or card statement within 1-3 business days.
Do I get a receipt?
Yes, a receipt is sent to your email inbox once your donation is processed. Please be sure to keep a copy of your receipt for tax purposes. If you select a recurring donation, you will be sent an individual receipt each period when your donation is processed.
Is my donation private?
We will not share or sell a donor's personal information with anyone else, nor send donor mailings on behalf of other organizations.